Let us smooth out your production line, or just straighten it up when it takes a turn for the worse. Our staff brings to your job over 75 years of combined experience in design and machining including experience with:
Shafts and Packing Glands
Sanitary Valves
Sorting and Conveyor Parts
Custom Fittings and Flanges
Repair of Pumps
We have built a reputation helping production plants around keep there lines running smoothly. Our Engineers and machinists have over 75 years combined experience in design, development, fabrication and repair. CAD/CAM software along with CNC and conventional machinery allows us to quickly and cost effectively machine parts. Our extensive experience with polymers, composites and corrosion resistant alloys enables us to help you design reliable equipment and possibly increase time between failures.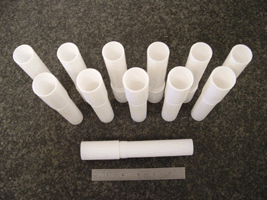 100% Teflon Venturis Manufactured for SPI Pharma for use in their facility in Lewes, DE.
Roller shafts manufactured for Bruce Foods to outfit Solbern canning machines. Shafts designed with four different configurations of threads and lengths. We also manufacture composite rollers for the shafts.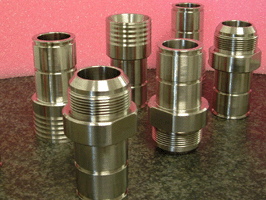 Inlet and outlet nipples manufactured from K-500 Monel and used in the high pressure Aqua Pump.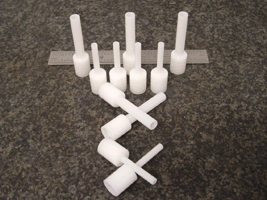 Delrin Nozzles manufactured for Dentsply Caulk, the world largest professional dental products manufacture.
Additional Services
Below are a few of our additional offerings.  Please contact us to see what we can do for you!
Contact Us!