About Our Team
many different backgrounds, one end result.
CHPT was founded in 1991 by Dr. Doug Hicks and John Protack to commercialize and market the patented Aqua Pump high pressure pump line for use in reverse osmosis desalination systems. Since then, CHPT has expanded to include a diverse range of manufacturing, design and engineering capabilities. CHPT's staff has over 75 years of direct experience with intellectual property protection (patents, know-how, trade secrets), composites, engineering polymers, corrosion resistant alloys, prototype development, beta site testing, production engineering, and manufacturing. Let us assist you in quickly and efficiently producing your components, equipment, systems or bringing your new technologies and innovations to market.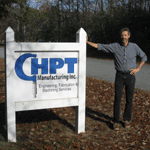 Douglas C. Hicks, PhD
Owner
Experience over the last 25 years includes alternative energy systems (3 US patents, 1 National Design Award); composite and polymeric high pressure pump design (1 US patent and commercial product line); fluid handling, desalination and filtration system design; food processing, scientific and pharmaceutical equipment design and manufacture (1 US patent); polymer and elastomer tribology; snowboarding, sailing and windsurfing equipment design (1 US patent); corrosion control and prevention; modeling and spectral analysis of mechanical and fluidics systems; PI and co-PI on NSF grants; Department chair for Engineering Technologies at Delaware Techincal and Community College (1997 to present). BS in Oceanography (Rutgers 1977); MS and PhD in Applied Ocean Sciences (University of Delaware 1980, 1985).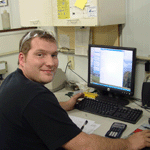 Matthew Koch
Owner, Lead Machinist, Shop Manager
Matt is experienced in CNC programming, production machining, welding (TIG, MIG, Stick), custom tooling and work holding fixtures. Past experience includes Star Manufacturing were duties included CNC operations for commercial grills; Lovejoy Tool Co., serving as an applications engineer after working up ladder from CNC operator to national technical sales position; Vermont Precision Engineering where he initially learned the art of machining materials including composites, stainless steel, aluminum and nickel alloys.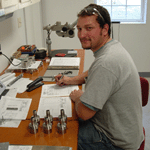 Jonathan M. Harp
General Manager, Designer
Project Manager and Designer; responsible for designs, prototypes, system integration, and production of components and assemblies; manual machining and fixturing; field installations; experienced in the use and teaching of several CAD packages including AutoCAD, Inventor and Revit; adjunct faculty Delaware Technical & Community College; BS Engineering Technologies (University of Delaware 2005).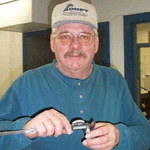 John E. Protack
Machinist, Quality Control
Experienced in manufacturing, production control, production engineering, tool design, prototype design, conventional, NC and EDM machining; machining high strength plastics, stainless steel, ni-chrome alloys and titanium. Past experience includes 24 years with DuPont Wilmington Shops as area supervisor, manufacturing supervisor, mechanical technician and machinist.

Timely Support
We pride ourselves in the accuracy and quick turnaround time of our products.  Our methods, experience, and dedication to each project keeps our clients returning time and time again.

Innovative Ideas
Our intuitiveness and originality brings fresh and solid designs to the table.  With 75 years of experience, we excel at making ideas into reality.

Advanced Technology
Armed with Solid Works, Master Cam, and AutoCad, our state of the art design tools and machinery bring your projects to the next level.  Not only do we utilize the programs daily, our staff also teaches the software to engineering students at the local community college.

Clear Communication
Prompt, precise, and immediate is how we operate.  We are always here to answer your questions and look forward to the opportunity to work with you on your next project.
Don't Be Shy. Get In Touch.
If you are interested in working together, send us an inquiry and we will get back to you as soon as we can!
Contact Us